R

Moped insurance quotes FAST & FREE

R

Online form takes under 1 minute

R

Insure your moped today and you could save!



Motorcycle Insurance is a quick and easy way to get cheap Moped insurance
Mopeds are a type of motorbike with small engines and a scooter body. Although they may look like a scooter, they are very different – mopeds will usually have an engine size of 50cc or less, and top speeds of under 30mph. They're also cheaper than scooters and motorbikes, and you can ride them from the age of 16. Visit here if you're looking for scooter insurance instead.
But mopeds aren't just for teenagers – they are increasingly popular among many city dwellers for several great reasons. Firstly, mopeds are great for travelling in crowded cities because of their small size and great manoeuvrability. This makes it easy to navigate heavy traffic and park in nearly any space but is also great when you're tight on space to store it, as they are smaller than many other bikes and vehicles. Mopeds are also incredibly environmentally friendly, much more so than larger vehicles, which makes them a great choice for those who wish to go green. And best of all, mopeds are great fun to drive, making an everyday commute fun and exciting.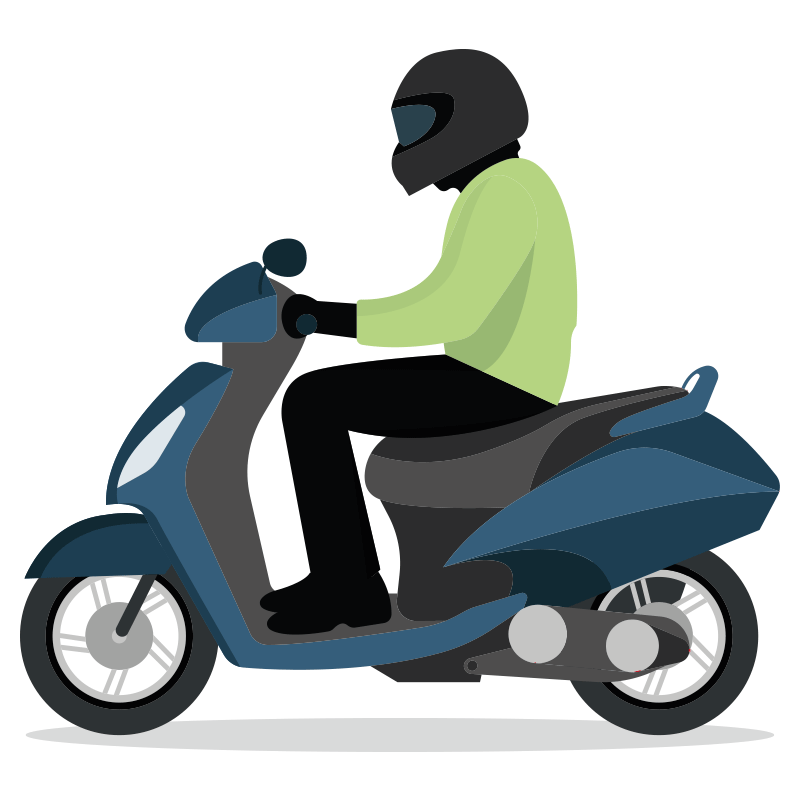 Cheap moped insurance
If these reasons weren't enough to convince you of the virtues of mopeds, there's also the running costs. Mopeds are generally cheaper to run than any other bike or vehicle, and this includes the moped insurance cost. Generally, when you compare moped insurance, you can find cheap electric moped insurance easily – meaning you have a quick ride to zip around on, for a low cost (and with a small environmental footprint!)
Electric moped insurance – the moped insurance cost best for you
But while it may be tempting to jump on your brand new moped and spin off into town, you still have a responsibility to secure cheap moped insurance for your new ride. First, you need to get a moped insurance quote – but when you're being bombarded with moped insurance quotes, how do you know what's best for you and your needs? This is why it's best to get a moped insurance quote through a comparison website, such as Motorcycle Insurance. Simply fill out all the necessary details into our easy price comparison tool, and all the hard work is done for you. We show you a few selections of the best, cheap moped insurance deals out there, and you can decide which is best for you and your needs.
What to keep in mind when looking to compare moped insurance:
Moped insurance is tailored to each specific vehicle and each individual driver – the UK moped insurance cost will vary, and go up and down due to different aspects of your age, sex, riding history, and moped itself. When looking for moped insurance, it is essential to keep a few things in mind. First, not all insurance companies cover all types of mopeds, so it is important to know the make, model and year of your moped when looking to compare moped insurance – for example – 50cc moped insurance will be less than the moped insurance cost 125cc. Similarly, not all insurance companies will cover all drivers; many have age ranges in which they will cover drivers, while others will not cover drivers with accidents or criminal histories. Being honest and comparing company policies with help from our UK moped insurance cost comparison system will ensure you get the best coverage, and perfect policy for you.
Do you need insurance for a moped?
You do indeed! Just like all cars, taxis and bikes, you need insurance to ride it. You need a minimum of third party electric moped insurance to be able to ride it. Depending on the make and style of your moped, you may require classic moped insurance or specialist moped insurance. All the details you input when filling out our quotation comparison form will help factor into the final decision of the best moped insurance cost for you.
Is moped insurance expensive?
Because mopeds tend to have small engines, mopeds can be one of the cheapest vehicles to insure. Generally speaking, mopeds are cheaper than cars to run and insure, so they're a great cost-saving option from all aspects. That said, when you compare moped insurance, you will find out the cost of moped insurance tailored to you, your bike, and your lifestyle. The cost of moped insurance UK will vary due to lots of different factors, so it's always best to get a personalised quote for you.
Can I add my moped to my car insurance?
Whether you can add your moped to your car insurance depends on your insurance provider, you will need to contact them to find this information out. Generally, most car insurers also offer moped insurance UK, too. You'll then have to decide between third party moped insurance, third party fire and theft moped insurance, or fully comprehensive moped insurance.
Can I tax my moped without insurance?
To tax a vehicle, you must already have insurance – you can't have one without the other. While you may be able to tax your moped without a physical copy of your insurance to hand, the DVLA will be able to check whether you have insurance – so make sure you have moped insurance UK before you try to tax it.
Want to get in touch about the best moped insurance costs?
Got a question that our FAQ's haven't answered? You can get in contact with a friendly member of our team here – whether it's about specialist moped insurance, or how to secure cheap moped insurance 50cc, we will be able to point you in the right direction.
How to get cheap moped insurance 50cc and 125cc
When it comes to getting an accurate moped insurance quote, honesty is always the best policy. But like other types of insurance, there are ways to lower the price of the moped policy that is tailored toward your specific needs – utilising quick, simply changes.
Many companies offer discounts on your moped insurance cost for drivers who park their moped in a locked garage overnight, and who use extra security precautions when leaving their moped parked outside – such as alarms, locks and chains. Other insurance companies offer discounts for mopeds which see limited mileage rather than daily use, and for drivers with years of moped driving experience. You can also choose to purchase a moped with a lower engine power to further reduce your moped insurance cost, which is something to keep in mind when buying your new ride. Additionally, remember that different kinds of moped, and different intentions for use, may mean you require different quotes, to help find you the best moped insurance cost. For example, if you have a vintage ride that you don't use and just want to store, you might need classic moped insurance or specialist moped insurance. Additionally, the size of the engine will change the cost – your moped insurance cost 125cc will be more than the cost of 50cc moped insurance. Always make sure to enquire about tailoring your package to your needs, even if you don't need any optional extras.
Get a Quote for Moped Insurance Now!
Whether it's for your daily commute or weekend ride, Moped Insurance is a must. Get insured, here.
Making sure you get the best moped insurance cost
Getting moped insurance should be pretty easy, and it shouldn't take too long once you use a handy cost comparison tool. As long as you take the time to thoroughly read through the information needed about each company and policy, compare all the best UK moped insurance costs with help from our cost comparison system, and make the best policy choice for you, you should be on your moped in no time!