R

FREE Dirt bike insurance quote online

R

Get a quote in under 1 minute for your new Dirt bike

R

You could make savings on your insurance now!



How to get cheap dirt bike insurance
So, you've decided you want to take up off road dirt biking, or maybe you've tried it out for fun and want to do it more often? Like all sports that require vehicles, dirt biking can be dangerous, and can therefore require insurance in order to keep you, your dirt bike, and the equipment and property of those around you safe, too.
However, dirt bike insurance UK isn't black and white like many vehicles. You don't always need insurance – but it's usually a good idea to have some sort of insurance when taking part in any bike related hobby.
The good news is that, because dirt bikes aren't used as frequently as motorbikes, 125cc bikes and superbikes, and because they're often used in an off-road, recreational way (rather than for commuting to and from work, or daily trips), off road dirt bike insurance is often pretty affordable. This means that for the possibility that you might one day realise you need dirt bike insurance, it's often a really good (and cheap) idea to take a premium out.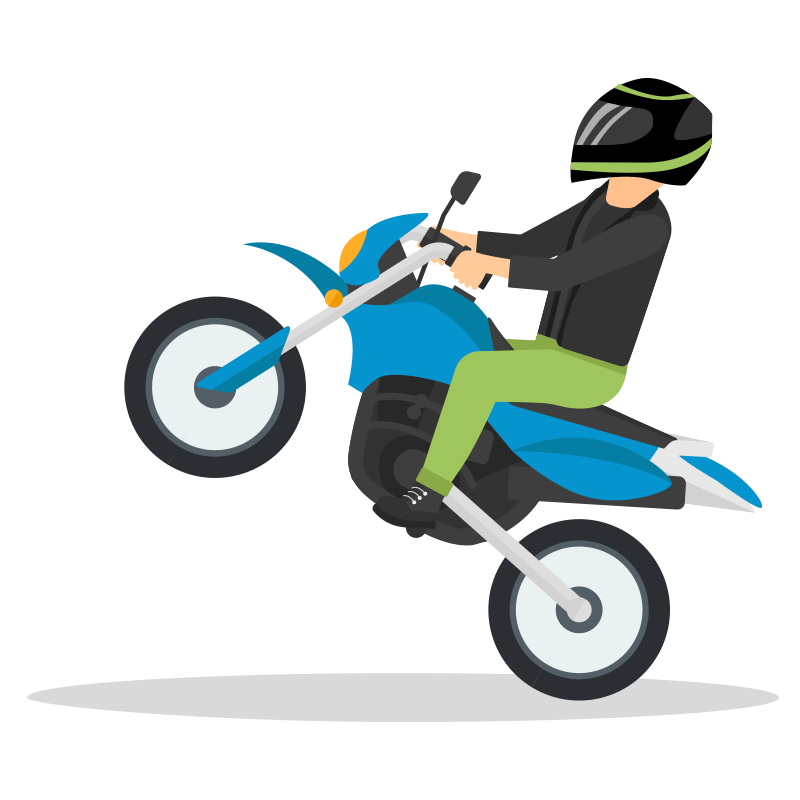 Get a dirt bike insurance quote here
But how do you find a good premium? With so many offers online, you might think your only hope is to call around many providers in hope they can offer you a better deal – but this is not the case. Don't waste your time on hold, simply input a little information about the dirt bike, and the rider, into our quotation comparison tool and we will show you the best, most relevant deals for you. Utilise our quick and easy comparison tool, and in under 5 minutes you'll have a list of options you can choose from. From here, do some research into each policy and choose the one that is most relevant to you and your needs – and you'll be riding your off road dirt bike in no time!
Do you need specific dirt bike insurance?
If you own a motorbike as well as a dirt bike you might be asking whether you can get standard motorbike insurance to cover your dirt bike. If you simply want your dirt bike to be legal to ride on roads (aka, if you're only worried about getting into an accident while transporting your bike on the road to your track location), you can legally use standard motorcycle cover. You must at least have third party insurance in this case. However, if you take out standard motorcycle insurance, you won't be covered in any way while on the track, or off road. So, if you get into an accident on the track, sadly your insurance won't cover it.
Another thing you need to consider is that specialist insurance may cover your dirt bike for transportation reasons. For example, if your dirt bike is on the back of a lorry being transported to a race track or to another location, if the lorry gets into an accident, your insurance will cover the damage done to your dirt bike. Standard insurance won't do this for you, so it's imperative you check what a tailored policy can provide for you, before you commit!
Ways to keep your dirt bike insurance UK premium as low as possible
It's really important to make sure that your off road dirt bike insurance policy is as low as possible, while ensuring it is all 100% honest, so that you can be certain you will be covered should the worst happen. There are, however, a few things you can do in order to try to reduce your premium.
Paying annually rather than monthly. This is quite achievable when it comes to dirt bike insurance UK, as it is one of the most affordable types of bike insurance, and it means you won't accrue interest if you pay it off all in one go.

Keeping your dirt bike safe can be favoured by insurance providers, as it is less at risk of being damaged or stolen, and as dirt bikes are 'fun' items, it's important to keep them locked away from people with nefarious intentions! Keep your dirt bike in a garage and lock it down and utilise an alarm when it's not in use.

Riding carefully can help lower your premium, as insurance providers take previous accidents into consideration when deciding how much of a 'risk' your riding poses.
Do you need insurance on a dirt bike?
This is a tricky one. To decide whether you need insurance in a dirt bike, you need to look at a few ways you might be using it. If your bike is entirely off road, in most cases you don't legally require insurance. However, if your bike goes on the road even for the short distance to get it to an off-road location, then yes, like all other vehicles and bikes, it definitely requires insurance.
Additionally, you need to consider whether you, personally, want to insure your dirt bike. If you ride your dirt bike without insurance and crash it – writing off or damaging your bike, or damaging someone else, injuring yourself or injuring someone else – you will be entirely responsible. Any legal and medical fees will need to be paid for outright by yourself, on top of replacing yours and their dirt bikes, and any property that is damaged in the process. Obviously, you hope this would never happen, but if the worst were to happen, you'd wish you had taken out insurance. The risk is yours to take. We would always recommend being as careful a rider as possible, and to take out insurance for if an accident is to occur.
How much does dirt bike insurance cost?
Like all insurance policies, this entirely relies on your personal circumstances in a lot of cases – your age, sex, location are things you can't change, and are things that insurance will take into account when creating a premium for you. As a rule of thumb, dirt bike insurance is often cheaper than insuring other vehicles, as they have engine and speed reductions and aren't classed as 'dangerous' as high speed vehicles. However, this isn't to say that you'll automatically bag yourself a dirt bike insurance UK bargain – you may still have to do some hunting around for a premium that suits you, your bike and your requirements. The best thing to do is to use our price comparison tool that presents all the best dirt bike insurance premiums to you, and lets you choose the one that suits you most for an easy to understand list.
How do I get custom motorcycle insurance?
You need to get multiple custom bike insurance quotes, when dealing with custom motorcycles. This is because the valuation process is harder, so one custom built bike insurance company might value it wildly different to another – and you don't want to get caught out paying an extremely high premium if you don't need to! Use our quotation comparison tool for a simple, easy to use way of comparing all the best custom bike insurance providers and choose the right deal for you.
Got a question we haven't answered here? Simply get in touch with anything custom motorbike insurance related – our expert team will be able to help you. We'd love to hear from you, so just send us an email!
Got a question about off road dirt bike insurance we haven't answered here?
Our team would be happy to help answer any questions you have about how to get cheap dirt bike insurance, or how to pick the best dirt bike insurance for you. Please feel free to get in touch here, and we will get back to you as soon as possible!
The three types of dirt bike insurance UK
There are three different types of dirt bike insurance you might consider when looking to compare dirt bike insurance quotes.
The first is third party insurance – this will be your most cheap dirt bike insurance option. This is the 'lowest' type of insurance premium and means only the other driver is covered in the case of an accident – your property and self are not. In an 'extreme' sport such as dirt bike riding, it may be the cheapest option, but it may not always be the safest or best. You need to consider what the cost of your own equipment would be to you personally should you get into an accident.
The second kind of dirt bike insurance is third party, plus fire and theft. This type of insurance provides insurance as above, plus protection against fire and theft.
The final – and often best dirt bike insurance option – is fully comprehensive cover. This covers you, your bike, and anyone else involved in an accident, so you can be sure that in all eventualities your property, and the property of those around you, is covered. We cannot advise which cover is best for you and your needs, but we would suggest looking into all of the options and seeing what you think would be best, and most sensible, for the type of off road dirt biking you do most often! Use our convenient quotation comparison tool to see your options, now.
Get a Quote for Dirt Bike Insurance Now!
Dirt Bike insurance sometimes requires specialist insurance, to keep you & your equipment safe. Get Dirt Bike insurance, here.